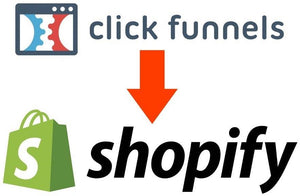 Add ClickFunnels to Shopify
themefast
Regular price $297.00 $197.00 Sale
Did you know that you can add ClickFunnels to Shopify? That's right – now you can have all the features of ClickFunnels and still track inventory and sales through Shopify. 
What does ClickFunnels offer?
Drag and Drop Landing Page Designer
Dashboard for monitoring business KPIs
Campaign analysis
CRM and email auto-responder
Membership database management
Email marketing
Email auto-responders
Multi step sales funnels
Social media integrations
Third party integrations
Click-through tracking
A/B testing
And more...
One-time service will include linking your ClickFunnels product funnel with your Shopify account. 
Additional Services
Create New Sales Funnel (+14 Days): $997.00
We will build your ClickFunnels product funnel with up to 3 pages and include up-sells, down-sells, or cross-sells. 
ClickFunnels is $97 per month and is not included in the price. You will pay ClickFunnels $97 per month to keep the funnel active.
Customers check out through ClickFunnels and payment is collected through ClickFunnels. Inventory and product information are sent to Shopify.
Images, content, terms & conditions must be supplied.